The Purpose of Zoning
The purpose of zoning is to keep people from using their property in a manner that would adversely impact the surrounding area. For example, the purpose of a single-family zone is to keep people from constructing a factory or a big apartment complex in the middle of a neighborhood. Allowing these higher-intensity uses in a low-density single-family residential area could cause a nuisance to neighbors, stress local infrastructure, and devalue surrounding homes.
Zoning can Impede Development and Progress
While zoning done right can add value to your property and make your life more pleasant, municipalities often make zoning more complicated and restrictive than they should. For instance, the City of Tacoma has over thirty different zones varying in intensity from single family to commercial.
These zones are often implemented in a haphazard patchwork. Here is a screenshot of the zoning boundaries surrounding our office in Tacoma: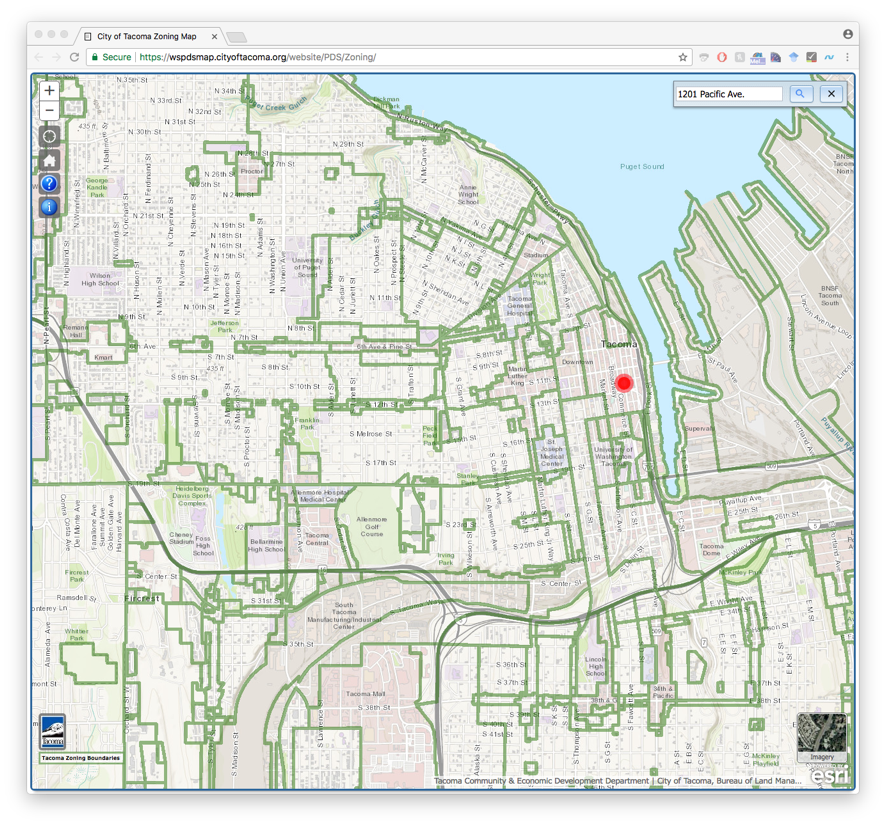 You can see how complex the zoning has become over the years. This level of complexity can make it difficult for people to use their property in an efficient manner.
How to Rezone Property in and Around Tacoma, Washington
If you want to use your property in a way that the current zoning does not allow, one of your options is to try to get it rezoned for the use that you seek.
There are generally two ways to get a property rezoned. The first is to make an official application for a zoning change (see, e.g. Pierce County's Zoning Change application checklist). While this option can definitely be worth pursuing in certain cases, it may not be the easiest path to success. In addition to the general human tendency to avoid admitting error, officials are often reluctant to rezone properties because doing so may constitute illegal preferential treatment known as "spot zoning."
The second and more efficient way to get your zoning changed is to lobby to changing the zoning of your whole neighborhood when your local Comprehensive Plan or Community Plan comes up for review (see, e.g. Tacoma's Comprehensive Plan). These plans set out broad development goals across the municipality, designating new growth areas, urban centers, residential areas, and more.
Municipal councils generally rely on input from citizens and local businesspeople when considering changes to the Comprehensive or Community Plan. Therefore, when a plan is up for review, that often presents an opportunity to lobby for a zoning change in your neighborhood.
Note: It just so happens that the Community Plan for Spanaway, Midland, and Parkland is currently up for review. If you live in those areas and you would like your property to be rezoned, now may be the ideal time!
Alternatives to Rezoning
Even if rezoning is off the table, there are other ways to pursue the same goal:
In many cases, these methods may be more efficient and likelier to succeed than outright rezoning. Click on the above links to learn more.
Check the Zoning in Your Neighborhood!
The following is a list of zoning maps for Pierce County and some of the included cities:
At the Brink Law Firm, we have extensive experience with rezoning in and around Pierce County. We have obtained favorable rezoning results both for our clients, and for ourselves for our own investment properties. To consult us about your real estate law case, you can call us today at 253.620.6666 or send us an email through our online contact form.