Parking and Access
If you're coming for an appointment, we're happy to validate your parking for no additional charge. Guest parking can be found on A Street near where it intersects with 13th Street. The below pictures show the garage's entrance. Make sure you hold on to the ticket the machine provides.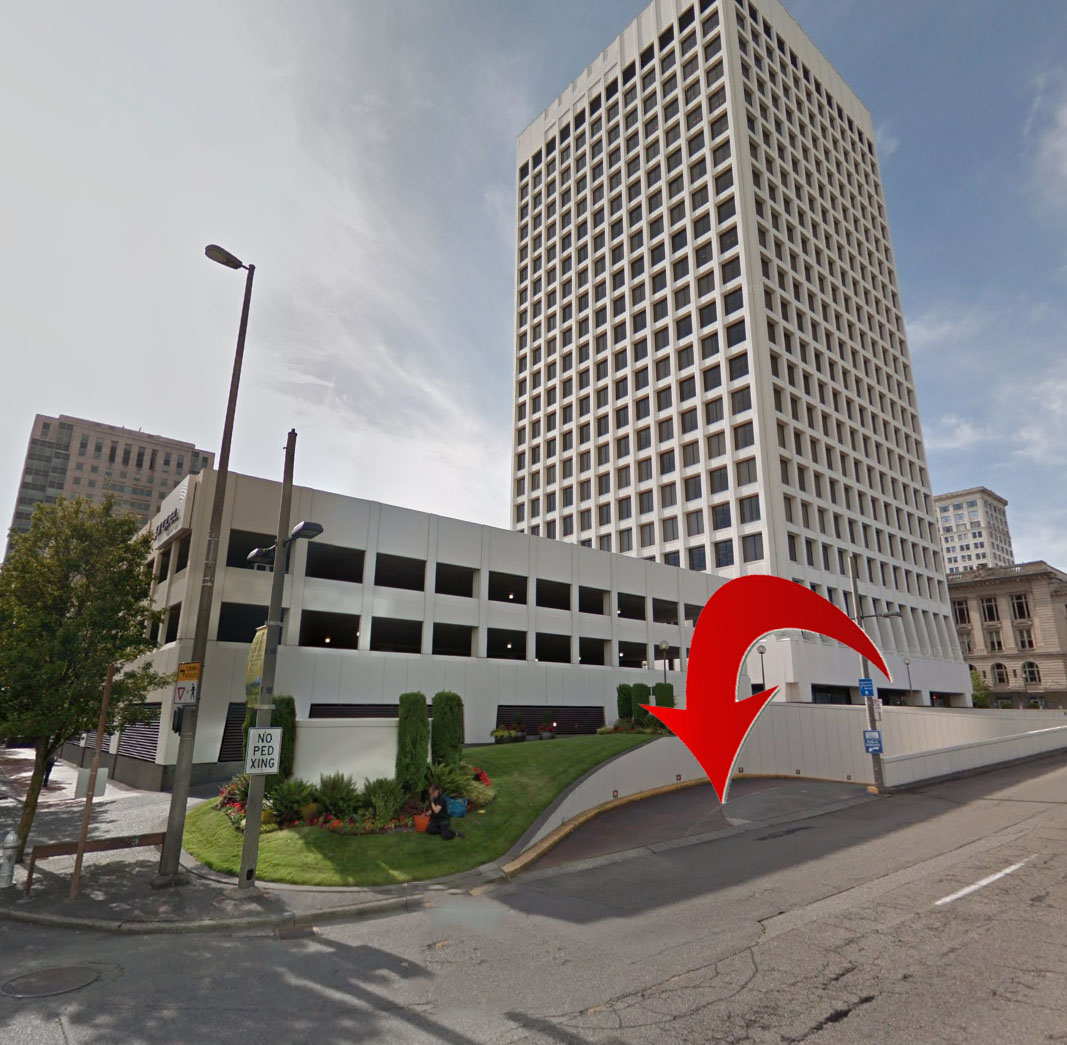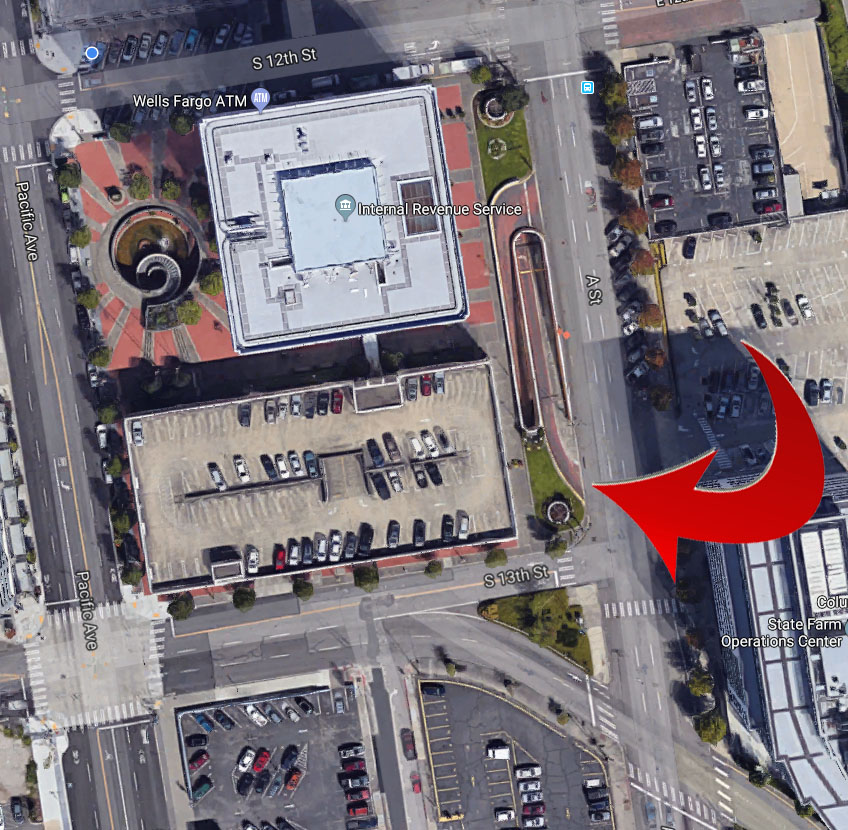 Once you've parked, proceed through the exit marked "To the Courtyard."
If it's before 6:00 PM, proceed through the sliding doors marked "To Main Lobby." From there, proceed up the escalator, and to the second bank of elevators marked "Floors 14-22." We share Gordon Thomas's Reception area on the 21st floor, so just tell the receptionist you're here, and she'll page us to come collect you.
If it's after 6:00 PM, the "To Main Lobby" entrance may be locked. If so, please proceed up the courtyard stairs, head to the building's front entrance, and give us a call at 253.620.6666 so we can let you in.
Our Contact System
Many websites are cryptic about how their contact system and website traffic systems operate. However, at the Brink Law Firm, we strive for full transparency. The purpose of the following is to explain how our contact system works, why we've organized it the way we have, and what we do with your information once we have it.
How our contact form works:
Rest assured: our contact form is not a black hole, and we never send out automated emails or advertisements. The main reason we use a contact form is so that we can more effectively triage your message.
When you send a message through our contact form, your message is simultaneously emailed to Attorney Terry Brink, Attorney Clinton Brink, and our legal assistant, Sandy Schaefer. We strive to respond to every message within a reasonable timeframe. However, if you have an urgent issue, it is usually best to call us at 253.620.6666.
When you call, whose phone rings?
We have set up our call system to be as direct as possible. When you call the number on our site, or any of the numbers listed on our various social media pages, the first phone that rings is the phone on Terry's desk. If he is busy and unable to answer, the call will dial through to Sandy, our legal assistant. If you leave a voicemail, an automated transcription and an audio file of you rmessage is emailed directly to both Terry and Clinton so that everyone can stay in the loop.
Why do we have various different phone numbers listed across the internet?
If you've spent much time researching the Brink Law Firm, you may have noticed that our website and social media accounts display various different numbers. This is because we (like most of our competitors) use call tracking software to help us determine the best way to focus our outreach and advertising efforts. All these various numbers ring the same phone in Terry's office, as described above.
Our Privacy Policy
At the Brink Law firm, we strive to protect your information as much as we reasonably can. As attorneys, maintaining client privacy is essential; our credentials, our reputations, and the success of our business depend on it.
Professional Duties of Privilege and Confidentiality
If you are contacting us for legal representation, most messages you send, calls you make, or voicemails you leave us are protected by the attorney-client privilege and/or our duty of confidentiality. These duties are not merely "best practice" conventions within the legal industry; they are enforceable legal standards that mandate hefty disciplinary penalties for attorneys who disclose certain sensitive client information to outside parties. These protections apply to most solicitations for services, so even if you never actually employ us, we are legally obligated to keep most sensitive information private.
Keeping your Trust
Your trust is extremely important to us. We know that keeping your information safe is essential for providing good service, maintaining our reputations, and growing our business. Therefore, we pledge to keep your information as private as we reasonably can, even when we are not otherwise legally obligated to do so.
We strongly believe that sending out spammy, automated solicitations is an abuse of trust, so will never use your contact information for that purpose, nor will we intentionally provide others with your contact information for that purpose.
Disclosure to Third Parties
We will never sell or trade your personal information. Nor will we ever intentionally disclose any of your personal information to any party that is not a member, contractor, employee, or service provider affiliated with or retained by the Brink Law Firm unless:
We believe doing so will help solve your legal problem (e.g. if you have a boundary line dispute, we may give your phone number to a reputable local surveyor that we trust); and
Doing so would not violate our duties of privilege and confidentiality or any other laws; and
You have not asked us to keep your contact information confidential; or
Disclosing your information is required by law.
Tracking and Cookies
Like most businesses online, we track user movement across our website using Google Analytics and other software. This process involves transferring certain information to your computer in the form of "cookies," which enables our site and service providers like Google Analytics to remember certain information about your visit. This information is used to help make the website better, and to make sure the user is as good as it can be. However, if you do not want to provide websites with tracking information, most browsers allow you to disable cookies.
Remember the Risks
The internet is a dangerous place. We try to keep our website and emails safe from hackers, but even the worlds' more sophisticated technology companies are sometimes subject to breaches. Though we take reasonable measures to keep your information safe, we cannot absolutely guarantee that the information you provide via our website will not be stolen.
External Sites
The Brink Law Firm is not responsible for the content or conduct of external websites.
Questions or Concerns?
We care deeply about providing our clients with the best possible service, and we understand that maintaining the privacy of our clients is essential to our business. If you have questions or concerns, we would appreciate hearing them.